What's the dealio?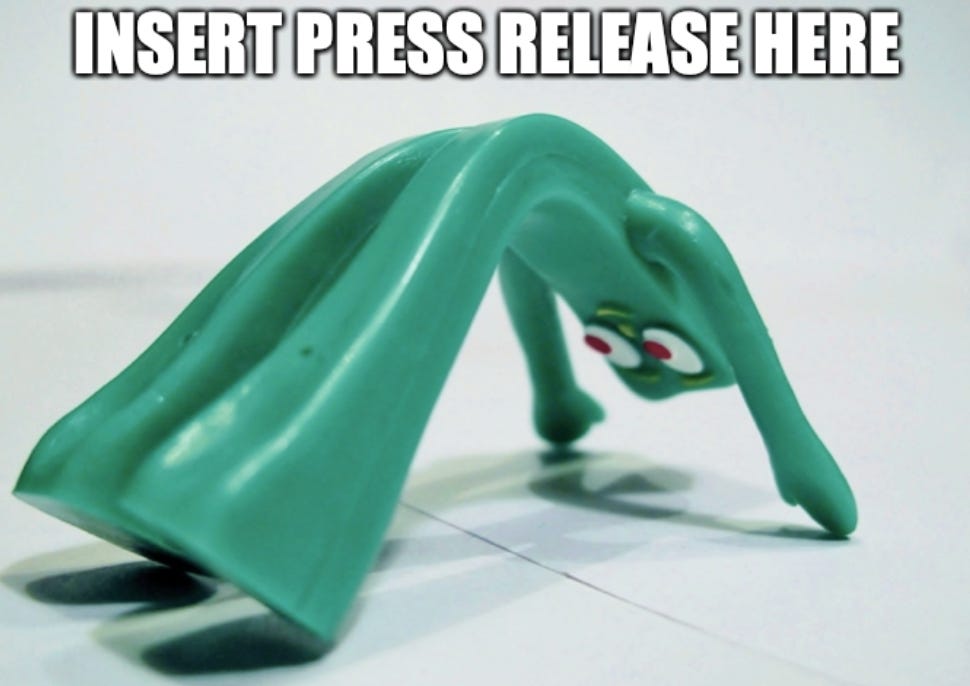 There may come a day when the pliable gumbies who make up most of the pro-level political media class in our big, brown, wide, wonderful land don't let a grinning piss-weasel from Munterland Shire get the better of them... but sadly that day did not come this week.
Perhaps next time the PM claims to have closed a deal for a free vaccine to guard every precious Vegemiter against the dread Miss Rona's deadly sniffilus, the big dogs and kung fu masters of elite level jernalisms might actually ask a few follow up questions before trampling each other in the rush to ladle their ever diminishing stock of priceless editorial jizz butter all over the Prime Minister's raging porky.



Seriously, people. It's not that fucking hard.
Sceptical punters without so much as a press pass between them were calling bullshit on Morrison's vaccine deal even before the company involved released a statement denying any such arrangement existed.
While gullible reporterbots were all aquiver with excitement at the PM's drug deal, humble Twitter contrarian Ronni Salt pointed out that...
"Vaccines are already free under our NIP & other countries around the world have already done this & the vaccine doesn't exist & AstraZeneca haven't promised anything - but do carry on.
She was not the only one to dip a dainty toe into the chill waters of disbelief.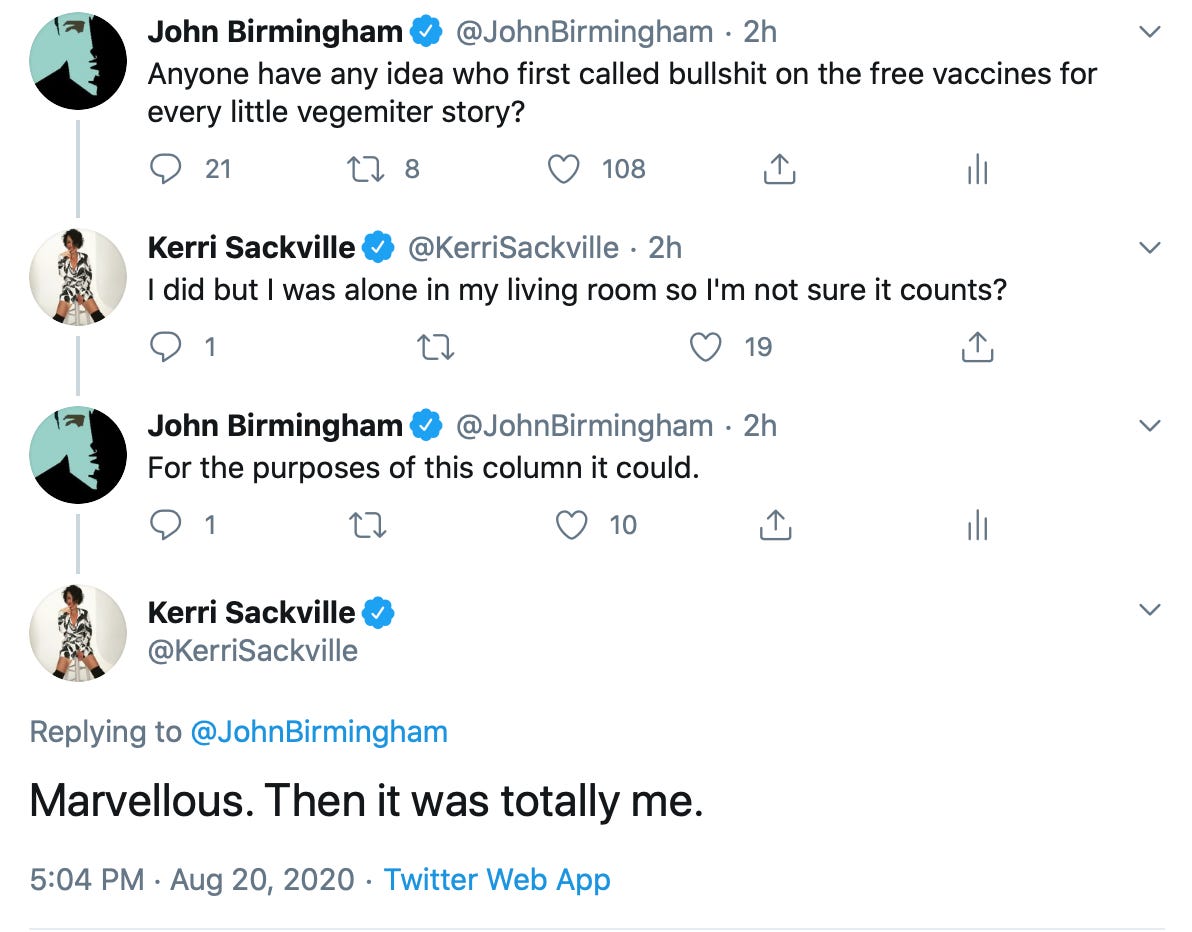 But Ronni was the first to suggest doing some basic due diligence on AstraZeneca - the multinational narco profit sharks with whom ScoMo scored the deal that wasn't there to jump a queue that didn't exist, even though the EU, Russia, Japan, China, South Korea, Brazil and half of Latin America had already signed their own option contracts with the company. A company, it turns out, with a significantly heavier rap sheet for indictable shenanigans than your average street level anarchopharmacist slinging ziplock bags of Chinese rock.
Lets throw a dart at the ol' AstraZeneca corporate calendar, shall we, courtesy of this useful link from Ms Salt.
In 2010 the U.S. Justice Department announced that AZ would pay US$520 million to resolve allegations that it illegally marketed its anti-psychotic drug Seroquel for uses not approved as safe and effective by the FDA.
In the same year they agreed to pay $103 million to settle another lawsuit after getting caught overcharging for asthma medication.
Unsurprisingly they've killed a couple of people, knowingly endangered tens of thousands of others with dodgy, half-arsed drug therapies, paid those fines, paid some more fines and settled a bunch of cases for sexual harassment and workplace discrimination. And, of course, they're tax dodgers, paying "£505 million to British revenue authorities" after getting caught playing hide the income sausage.
And the year all that happened?
Why 2010, of course. One busy fucking year. But perhaps they got better? Maybe they just had a bad year and…
Er. No.
This handy online corporate violation tracker records more multimillion dollar breaches in 2011, 2013, 2015, 2016 and 2018.
So these are the guys that noted brain genius Scotty from Marketing decided he could play for gimps; a gigantic, multinational outlaw sci fi enterprise one stock split away from morphing into Resident Evil's Umbrella Corporation. A hydra headed megacorp with so much fucking money it can piss away nearly two billion Australian dollarydos in one financial year as the cost of doing some really shady fucking business.
Nice work, Smoko.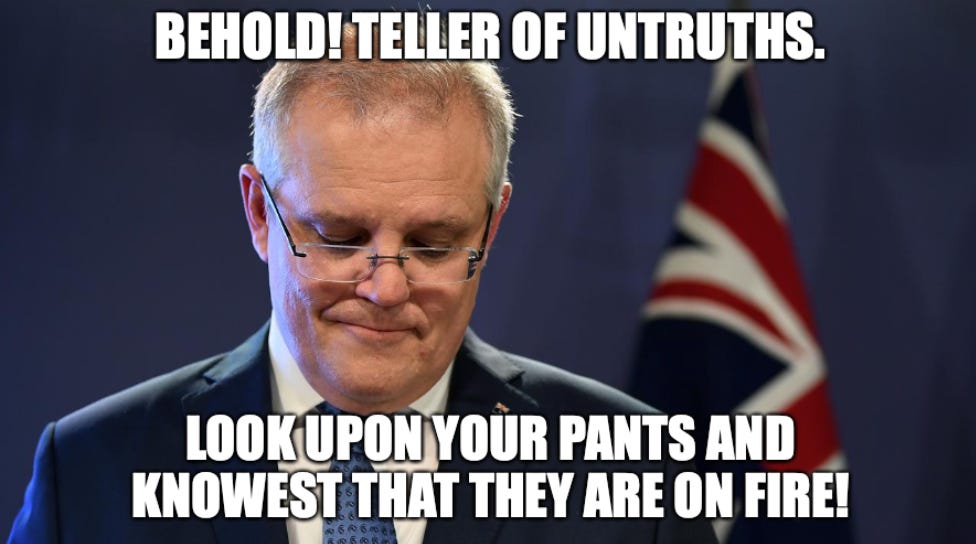 But, of course, in some ways, or in one way at least, it was a very nice piece of work. Anybody whose memory function hasn't been completely fried by the year of lockdown and madness might recall that Morrison started Wednesday morning playing dodgeball with allegations that the commonwealth government was somehow responsible for the outbreak of COVID-19 in the Victorian nursing and aged care facilities for which it had, you know, responsibility.
But Scotty found a way to, ahem, vaccinate himself. And the way this slippery teflon mofo rolls, even his self-owns can be redressed for success. Having announced the vaccine that wasn't, he overreached into places he shouldn't, and promised it would be 'mandatory-but-not-compuslory.' He even reminded his credulous enablers in the media that he was responsible for buttressing the national immunisation program with the "No Jab No Play" policy.
This occasioned a predictable brainspasm and facebook riot within anti-vax conspiracyland and quickly had him back-pedalling desperately.
One thing about Morrison, though, he does learn, and the next time he needs a handy diversion, he'll have that one ready to go. Whether it's a real thing or not, and whether he actually did anything or not.
He can be sure, after all, that most of the media will simply amplify rather than interrogate whatever he tells them.